Want to get more engagement on Instagram? Feel like one image doesn't tell the whole story but aren't sure how to use carousels correctly?
In this article, you'll discover eight unique ways to use carousel posts to enhance your Instagram marketing efforts.
What Are Instagram Carousel Posts?
Carousel posts are a very simple concept. Instead of posting just one photo to your feed, you can publish up to 10 photos and videos in a single post. Users just swipe to view each image in the collection.
So far very straightforward. But like all the best features on social media, it's the simplicity of carousel posts that makes them so useful. You can use carousels in many different ways, from product catalogs to press releases to panoramic photos.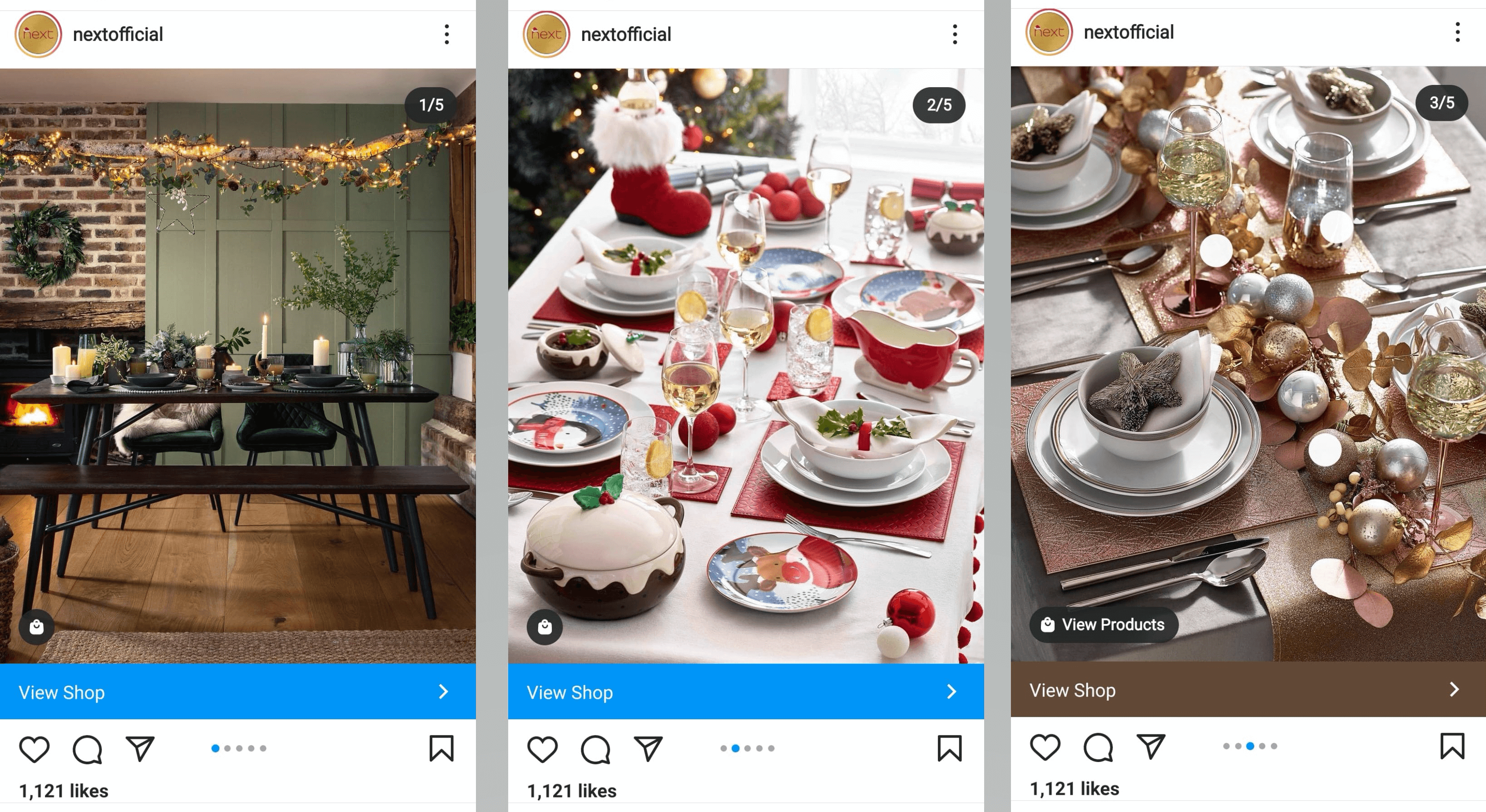 However, until recently, carousel posts had one fatal flaw. Once you made a carousel post, all of the images within it would be treated as a group. If you wanted to edit the post, you had to edit the whole post. And if you wanted to delete a photo… yep, you had to delete the entire carousel.
But in November 2021, that changed. Instagram has released a feature that allows you to edit and delete individual images within a carousel post.
It's about to make social media managers' lives much easier.
But before we get into the hows and whys of deleting carousel images, let's start with some carousel post inspiration for your Instagram feed.
8 Ways to Use Instagram Carousel Posts
Carousel posts are useful because they allow you to tell a story. Instead of presenting a single photo or video in isolation, you can add some context, get into details, or create a sequence of images to engage your followers.
Here are eight of my favorite ideas for carousel posts.
#1: Show a Before and After
Before-and-after posts are classics of the internet. We all love a glow-up—whether it's an apartment makeover, a fresh outfit, or progress pics from a craft project.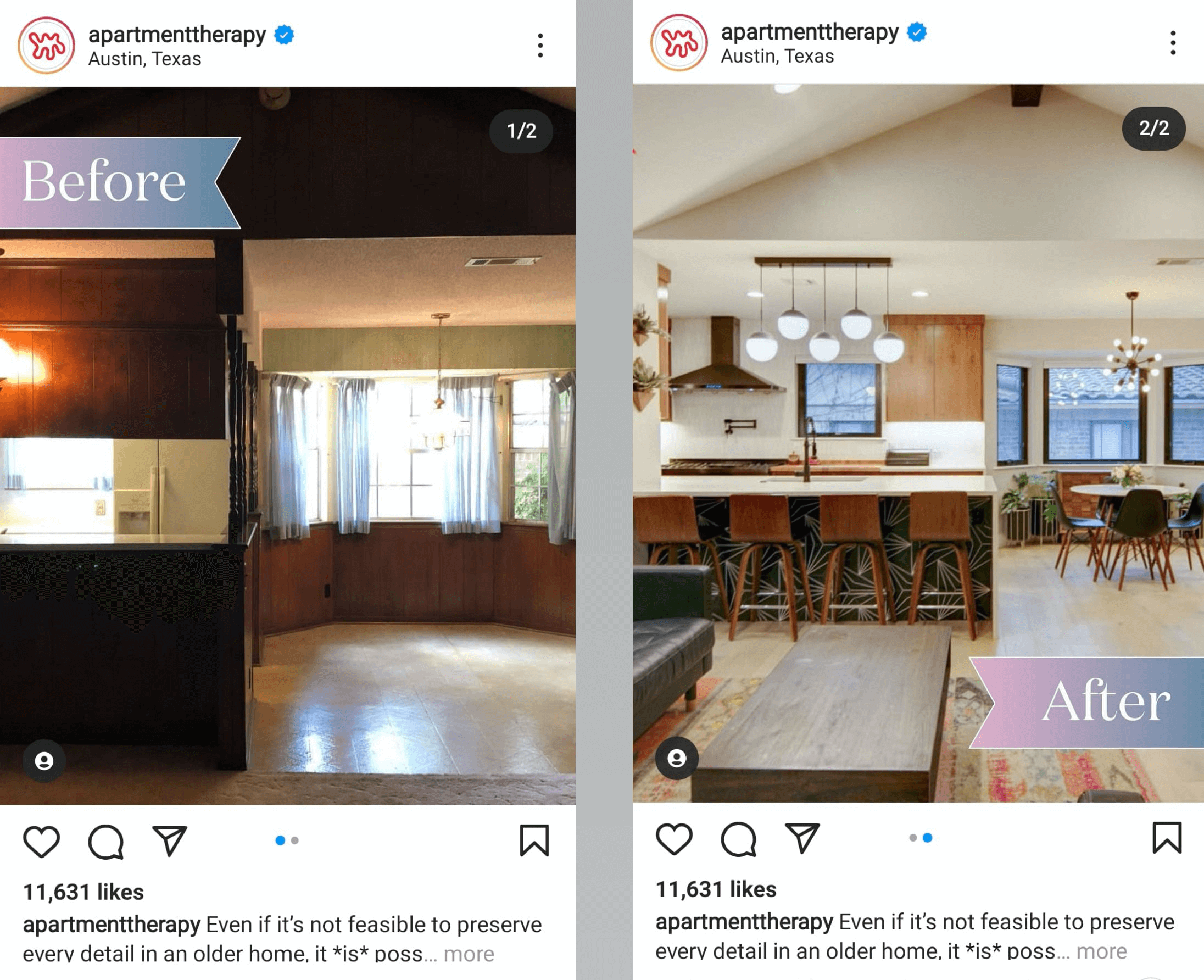 Use a carousel post to show your own before-and-after pictures. Because you can have up to 10 images in a carousel, you could use the extra space to show more details of the transformation.
Pro Tip: Bear in mind that you don't have to start with the "before" photo. It's equally popular to post a gorgeous "after" shot, and then have users swipe to see the grungy beginnings.
#2: Compare a Range of Products
Carousel posts are a great way to show a range of products, a bundle of recommended items, or even simply the same product in different colorways and with different customizations.
To illustrate, this post from a craft retailer shows a range of fabrics for a dress-making project.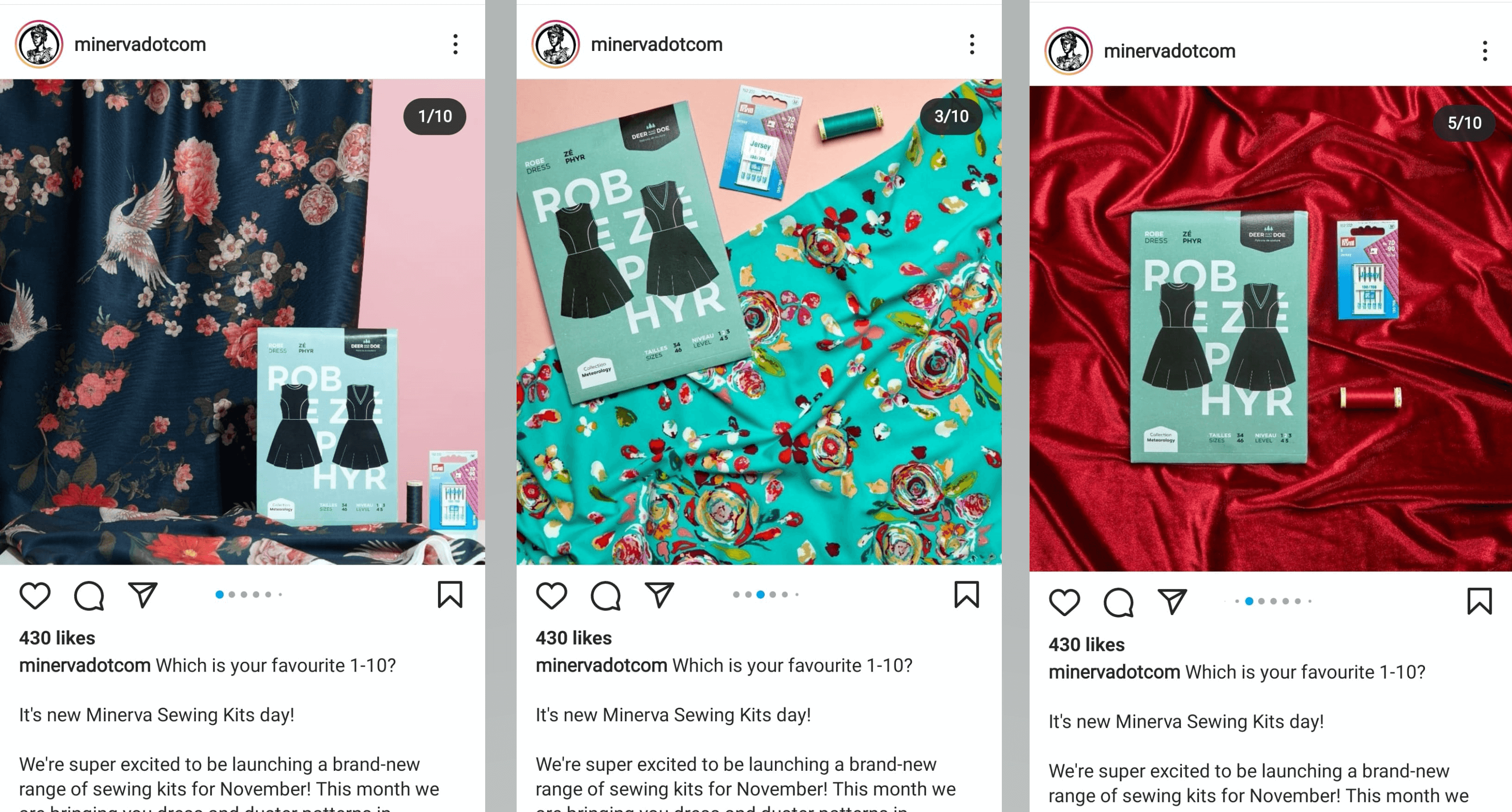 Make sure that you have shopping tags enabled for every post. (Read this article to learn how to sign up for Instagram Shopping.) This format also works well for Instagram ads aimed at new users.
You can also use carousel posts like this to encourage more engagement. For instance, you could ask followers to:
Spot the differences between products.
Vote for their favorite.
Rank the images in the carousel.
#3: Release a Statement
Instagram captions can have more than 2,000 characters, but if you have something important to say, it might be easier to put your thoughts into the main image. There's a reason that celebrity breakups are always marked by a story or feed post of a written statement, rather than putting all of the details in the comments.
Carousel posts are great for press releases or statements because you can break the text down into short points. Think of it as a PowerPoint presentation: one idea per slide.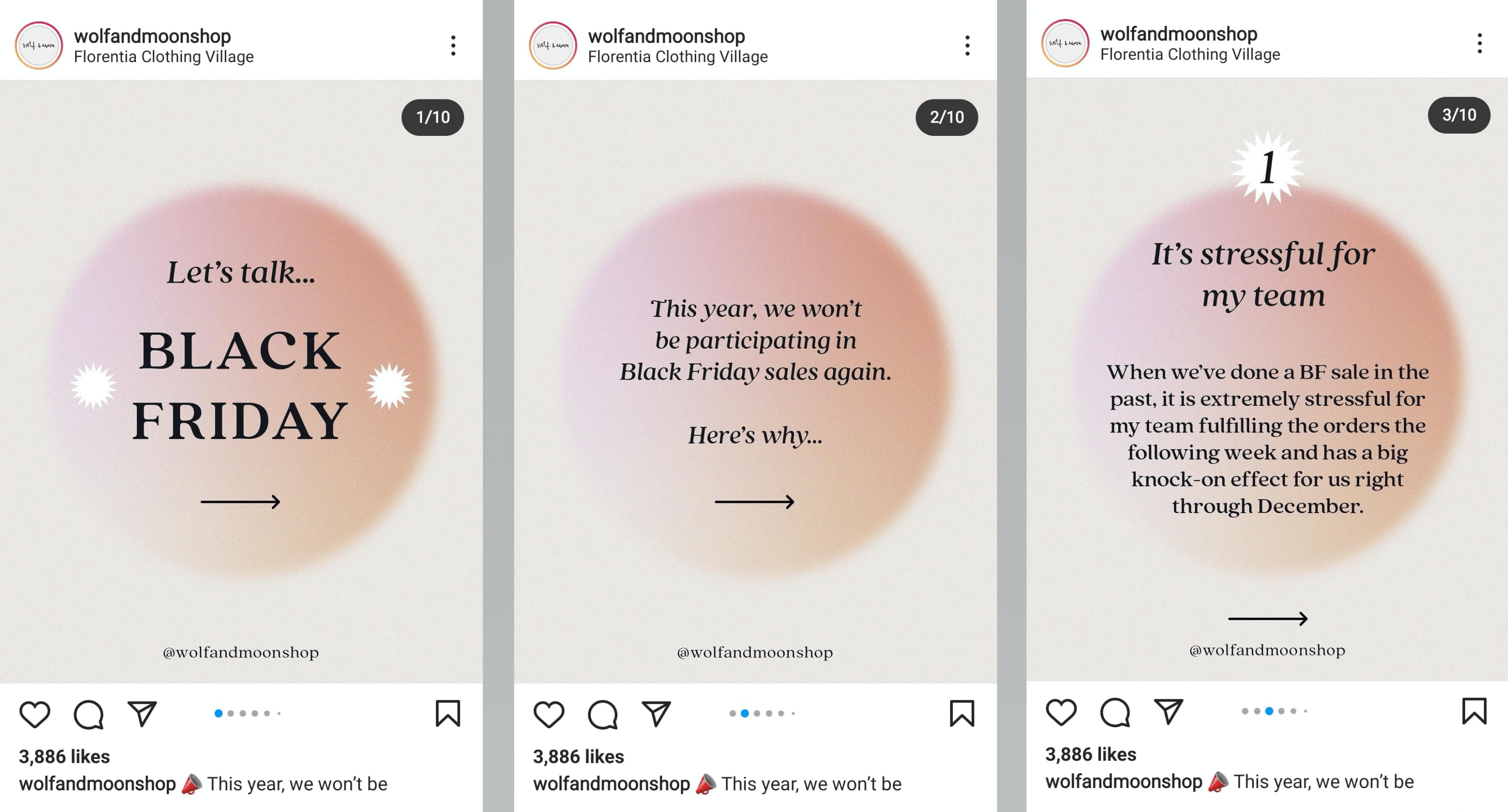 This is also a great format for important information because it's visible at a glance. Although stories and reels can be useful for explaining your thoughts, followers have to make more of an effort to watch and process the whole statement. Think of the carousel post as a useful summary that will stay on your profile for future reference.
#4: Share a Listicle
Yes, you can post listicles on Instagram. Quick tutorials, trend reports, even branded horoscopes can all perform well on the platform, and I'm sure you'll be able to come up with even more ideas.
This type of carousel post is an efficient way to repackage content. (Read: it could help you save a lot of time and effort!) You could summarize blog posts, videos, or shopping guides for your Instagram audience.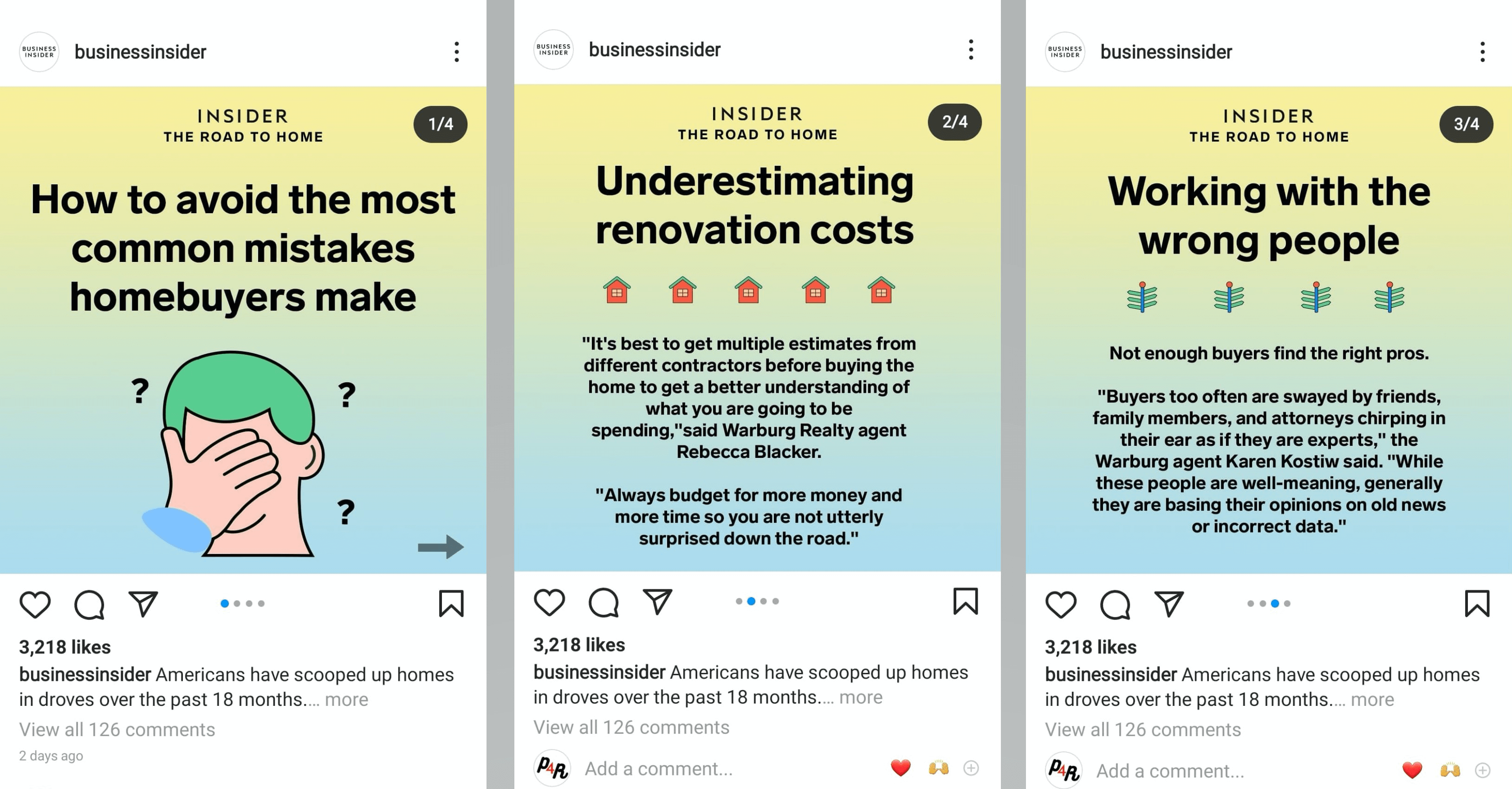 #5: Highlight Product Details
Think about the last time you shopped online. When you clicked on the listing for a product, it didn't just show a single image. There were probably multiple photos, showing different angles, closeups, and perhaps even a video of the product in action.
Instagram shoppers want the same quantity and quality of images for their purchases. You can use Instagram carousel posts to highlight specific details of a product and show it from different perspectives.
You could also zoom in on a specific product within a range, showing off what makes it special and encouraging more sales.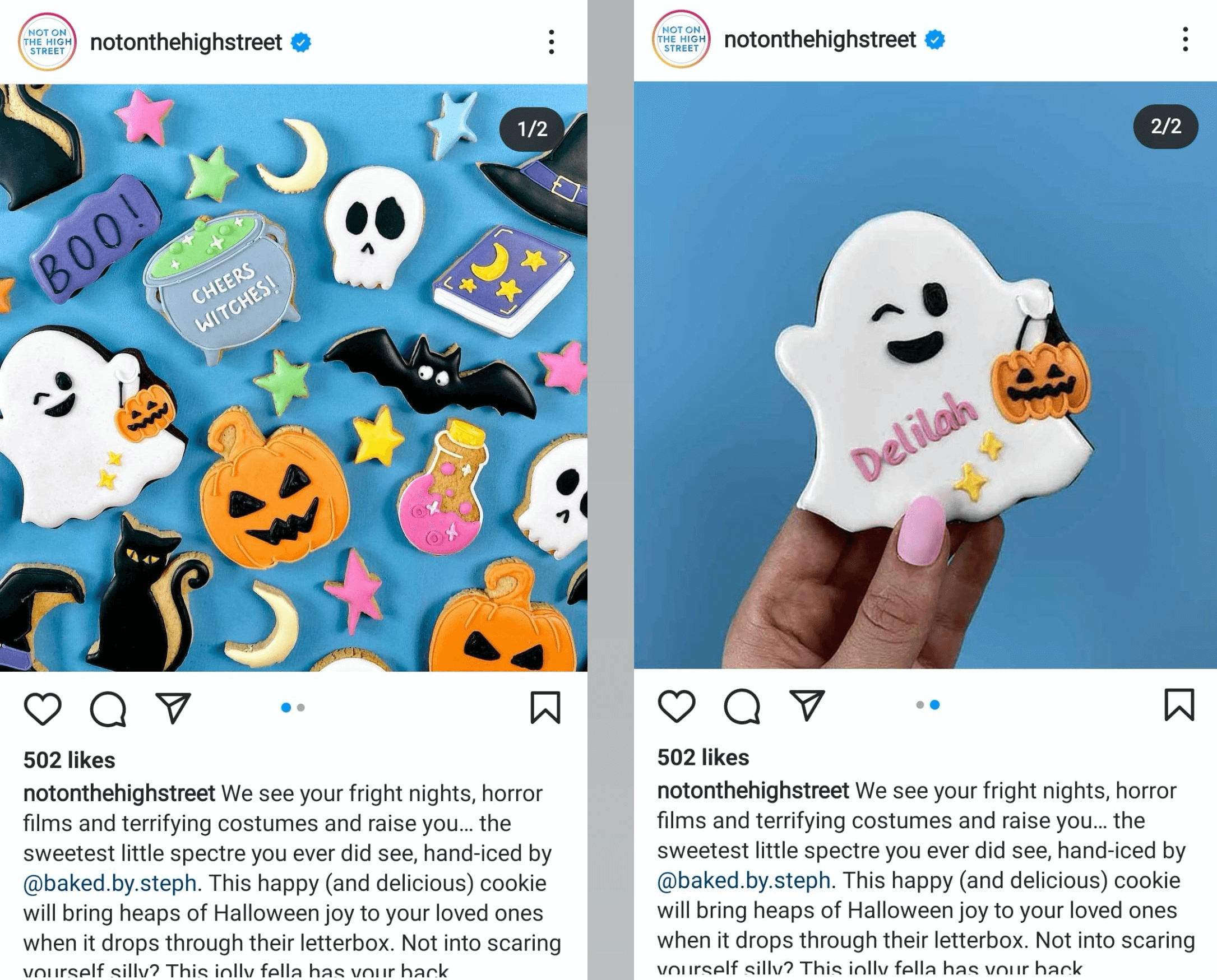 #6: Create a Panorama
As well as sharing more detailed information, carousel posts also have creative possibilities.
My personal favorite is when brands use the scrolling feature to create one panoramic image that stretches across the whole carousel. This is a fun way to pique your followers' curiosity and encourage active engagement with the post.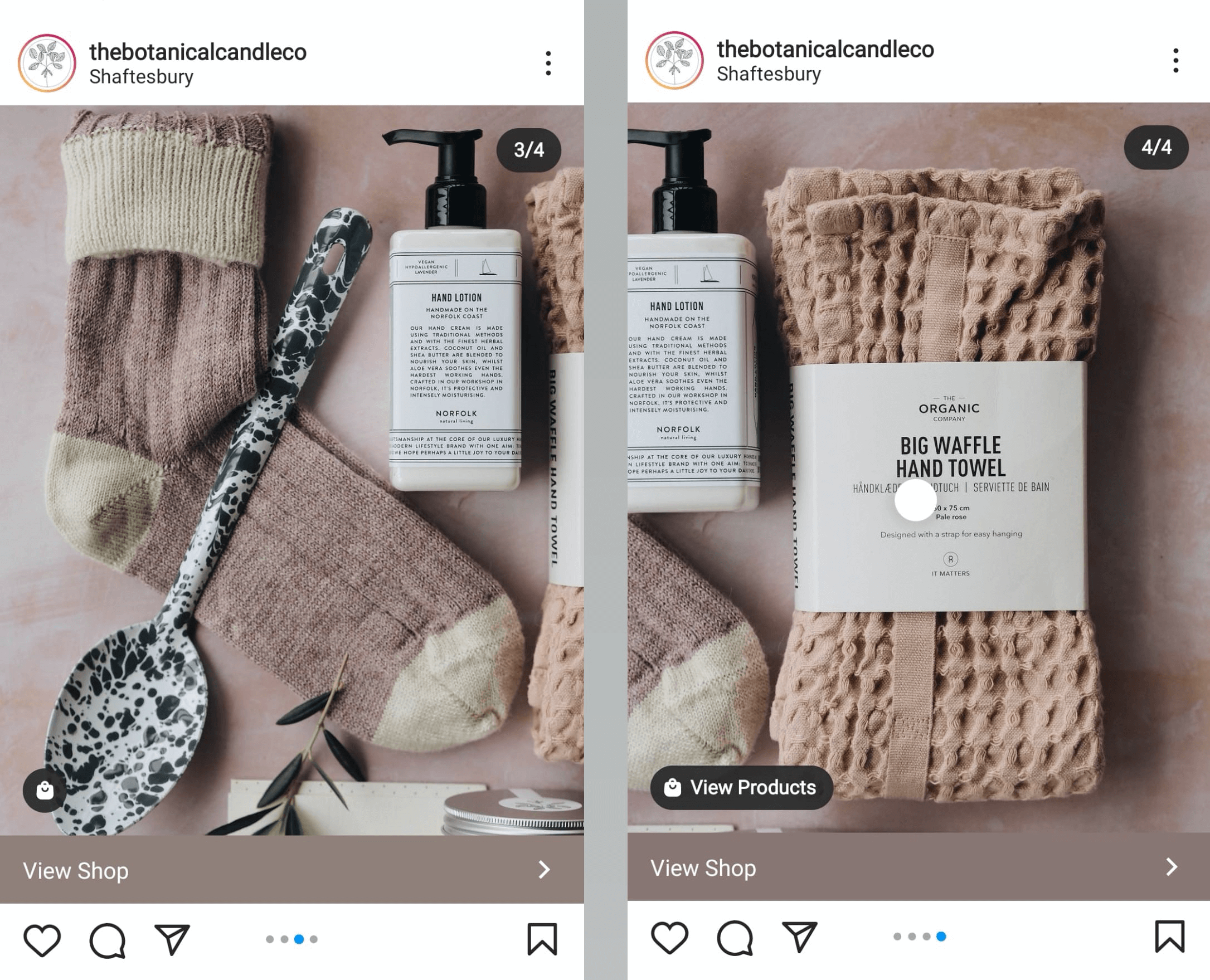 If you don't have a panorama to share, you can create the same type of effect by using photos with a similar layout. In this example, the three photos used are actually separate. But the product has been positioned so that it looks as if there is a continuous line running through the images: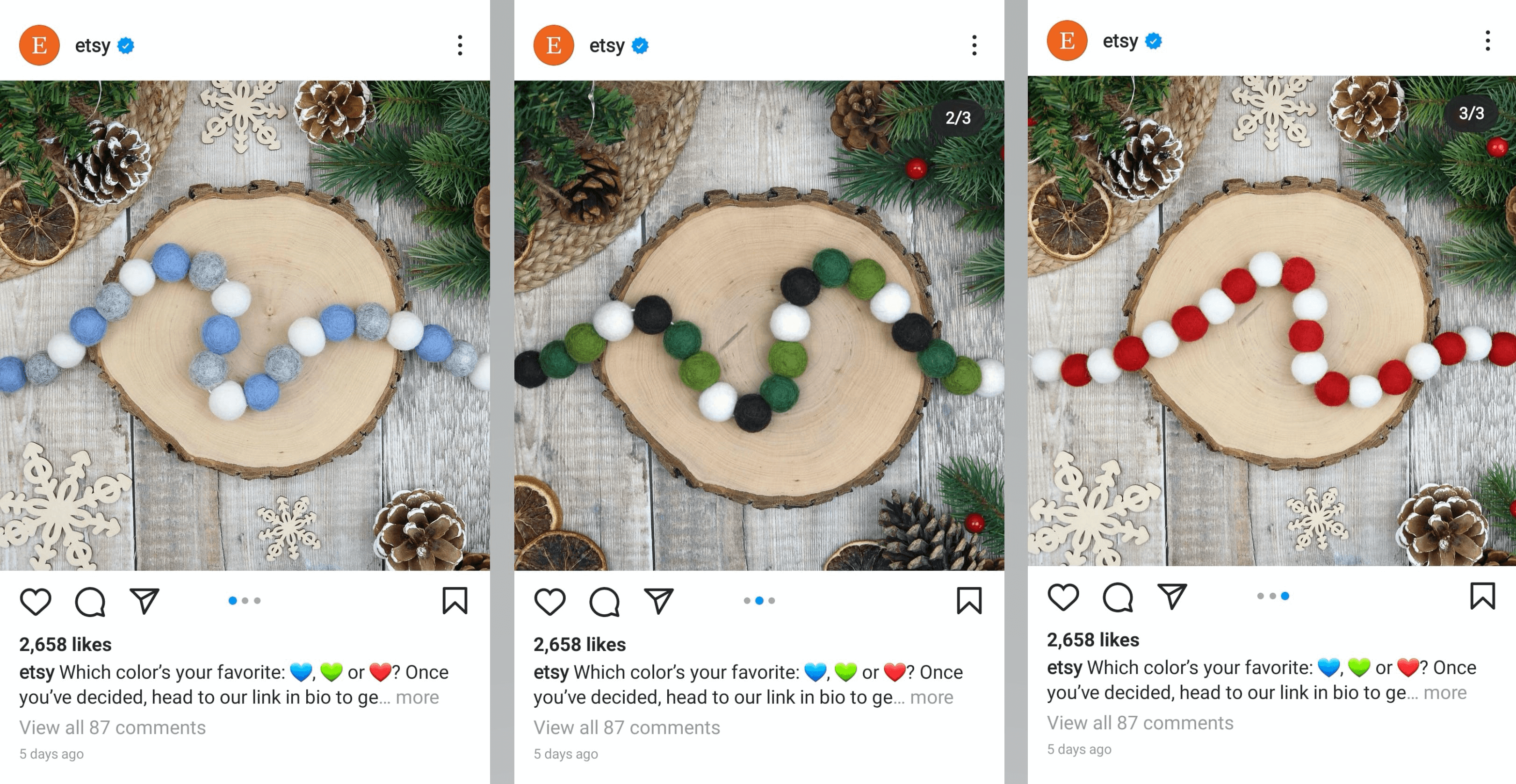 #7: Introduce an Offer
You can also use carousel posts to "hide" information. Putting an offer or a discount code on the final slide encourages users to interact with your posts and rewards your most engaged users.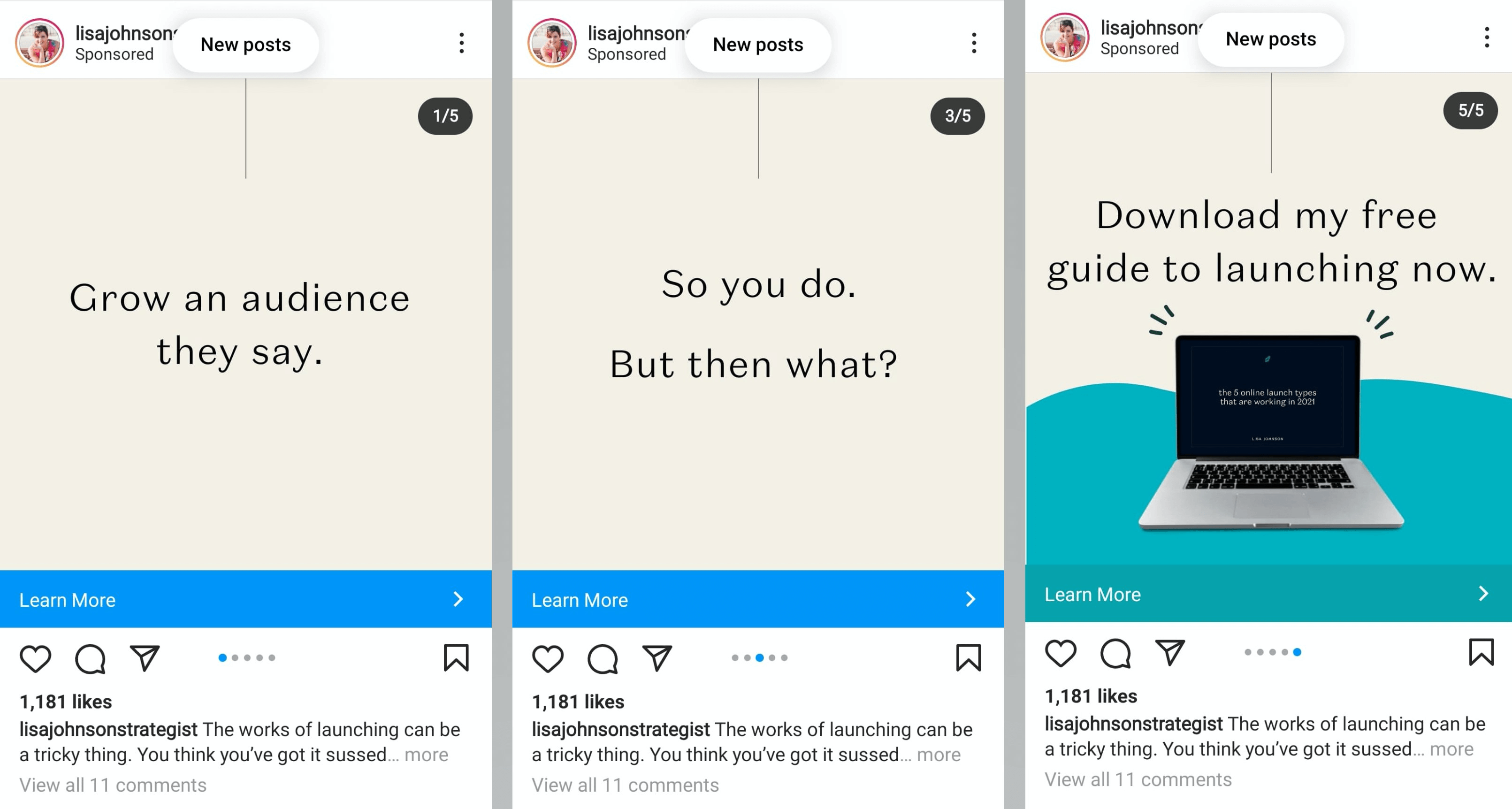 This is another strategy that works well for Instagram carousel ads. It automatically filters users so only the most interested will find the offer. Just make sure that you've used attention-grabbing images and text so users will know it's worth the swipe.
#8: Feature Artists, Collaborators, or Customers
Here's one more idea for carousel posts: give some space to your favorite artists, collaborators, brands, or even customers.
To visualize this, you could make a weekly carousel post with your favorite photos from happy customers or curate a list of recommended brands for holiday gift shopping.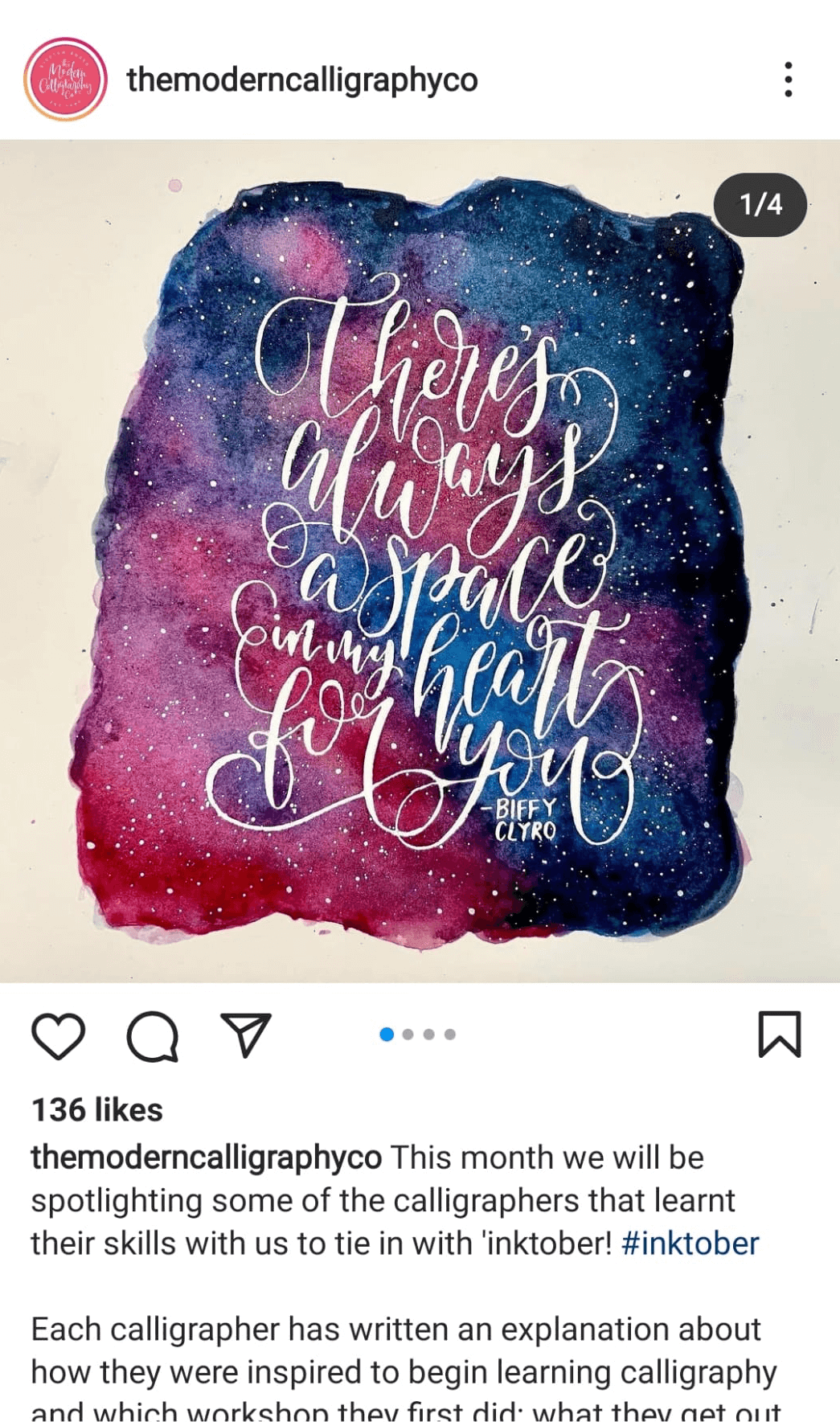 This is also a good option if you want to make connections with other brands, without distracting too much from the general style and tone of your posts. Sharing lots of posts from other accounts might disrupt the look of your profile, but a single carousel post can't do any harm.